Wild Cave Adventures, based in the Cradle of Humankind World Heritage area, offers a unique blend of great fun and ecological awareness that keeps visitors busy for hours. From abseiling into a dark cavern to caving to abseiling and hiking in the open air of the Magaliesburg, you will come away a little wilder at heart!
Wild Cave Adventures caters for adventure seekers of all ages looking for opportunities to explore extreme areas safely. We are dedicated to preserving the environment for future generations and use these excursions to develop public awareness in environmental preservation.
Coronavirus COVID-19
At Wild Cave Adventures, the health and safety of our customers is our highest priority. Under Lockdown Level 1, most abseiling and caving activities are now possible. What better time to get out of the house and into the sun for some Vitamin D, while learning the art of rockface abseiling.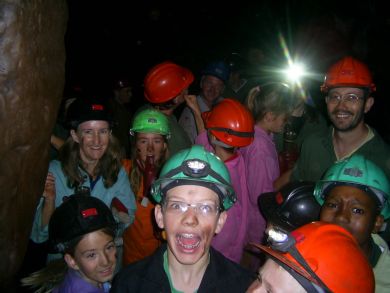 Special Events
Wild Cave Adventures caters for all events, including:
Children's Birthday Parties
Bachelor's Parties
Teambuilding Events
A party at Bat Cave - for old and young - is an adventure to remember! From being dressed in overalls and mining helmets to spending time underground getting grubby, the focus is on giving the kids a unique experience. Please contact our office so that we can tailor-make a memorable day for you.